Welcome
Print
TERMS
5 acre, $500 down and $250 per month
10 acre, $500 down and $250 per month
20 acre, $500 down and $250 per month
40 acre, $1000 down and $300 per month
80 acre, $2000 down and $480 per month
120 acre, $4,000 down and $590 per month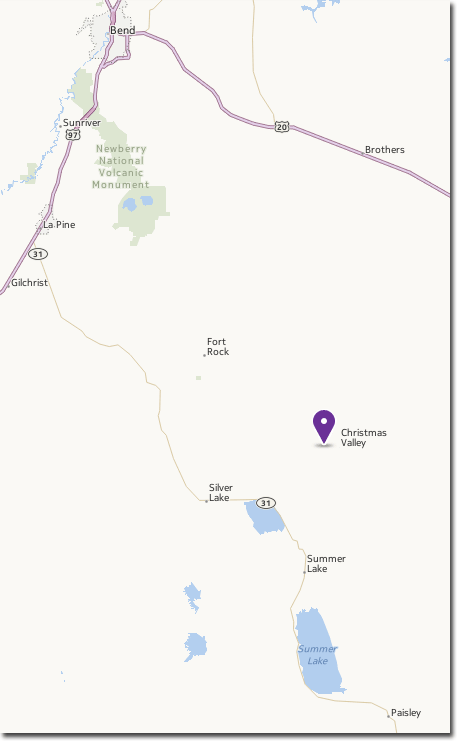 NO CREDIT CHECK
NO EARLY PAYOFF PENALTY
We own all of the properties for sale on this website and are able to pass on substantial savings and easy terms to people just like you.
Christmas Valley is in Lake County, Oregon, one of the most unique, picturesque landscapes in the Pacific Northwest and among the few truly unspoiled places on earth.
The Christmas Valley area is one of the last areas in Oregon where you can buy a huge parcel of land at an affordable price. Christmas Valley is close to numerous recreation and scenic areas within Lake County.
Christmas Valley parcels range from 5 acres up to 160 acres and are all available to purchase through our easy owner financing program or easy cash sale.
Surrounding the town of Christmas Valley with its lodge, golf course, lake, motels and airstrip, is an Agricultural community of farms and ranches offering an excess of 80,000 acres of level, fertile land on the sheltered eastern slopes of the Cascades which is also our watershed.  To the West, there are ski resorts, and mountains and lakes that attract tourists from all over the world.  Within the county itself are 500 miles of streams, seven major lakes, and some of the finest fishing and hunting in the United States.
Start enjoying the benefits of land ownership in Christmas Valley today and experience the many recreational opportunities in Lake County, OR.
     ...read more